Your backyard is not just a space to plant trees and flowers, it can also be a socializing spot where you can invite your friends and family over for a delightful evening. Imagine a space that helps you unwind while enjoying the warmth of the sun and the company of your loved ones. And that's where outdoor bars and stools come into the picture. With a wide range of designs, types, and sizes, outdoor bars, bar furniture, bars, and stools can elevate the ambiance of your backyard. So, if you're thinking of adding an outdoor bar with stools to your backyard, then this blog is for you.
Choose the Right Style for Your Backyard
The first step in creating an outdoor bar with stools is to choose the style that works best for your backyard. You could choose between a modern, rustic, or traditional style, depending on your preferences. A rustic-style patio bar is best suited for a country or farm-style home, while a modern-style patio bar goes well with a more contemporary backyard. Make sure to pick a design that matches the theme of your backyard.
Consider the Shape and Size of the Bar
The shape and size of your outdoor bar with stools depend mainly on the size of your yard. If you have a small backyard, then a compact bar set up with fewer stools would be a better fit. A straight or L-shaped bar would work best for a smaller backyard. On the other hand, if you have a bigger yard, then a spacious front bar set up with more stools and a U-shape could be an ideal choice. Measure the area where you plan to set up the bar to ensure that it fits perfectly.
Pick the Perfect Stools
Outdoor bar stools come in different materials, including wood, metal, wicker, and plastic. Wooden stools add a classic and timeless touch to your backyard bar. Metal stools are durable and resistant to harsh weather conditions, while wicker stools give a contemporary and stylish touch. Plastic stools are lightweight and easy to move around. It's good to choose stools that match the style and design of the furniture outdoor bar itself.
Add Additional Features
A backyard bar isn't complete without additional features. Consider the options for adding a mini-fridge to keep your drinks cool, shelves to store glasses and bottles, and even a built-in grill for a barbecue. These additional features can make your outdoor bar more functional and convenient. You could also add lights and audio equipment to the bar to create a more entertaining atmosphere.
Keep Comfort in Mind
Comfort is key to enjoying your outdoor poolside bar with stools. Choose stools that have a comfortable seating area and backrest. Cushioned seats can enhance the comfort level even further. Additionally, consider adding patio umbrellas or canopies to your bar furniture to provide shade during hot and sunny days.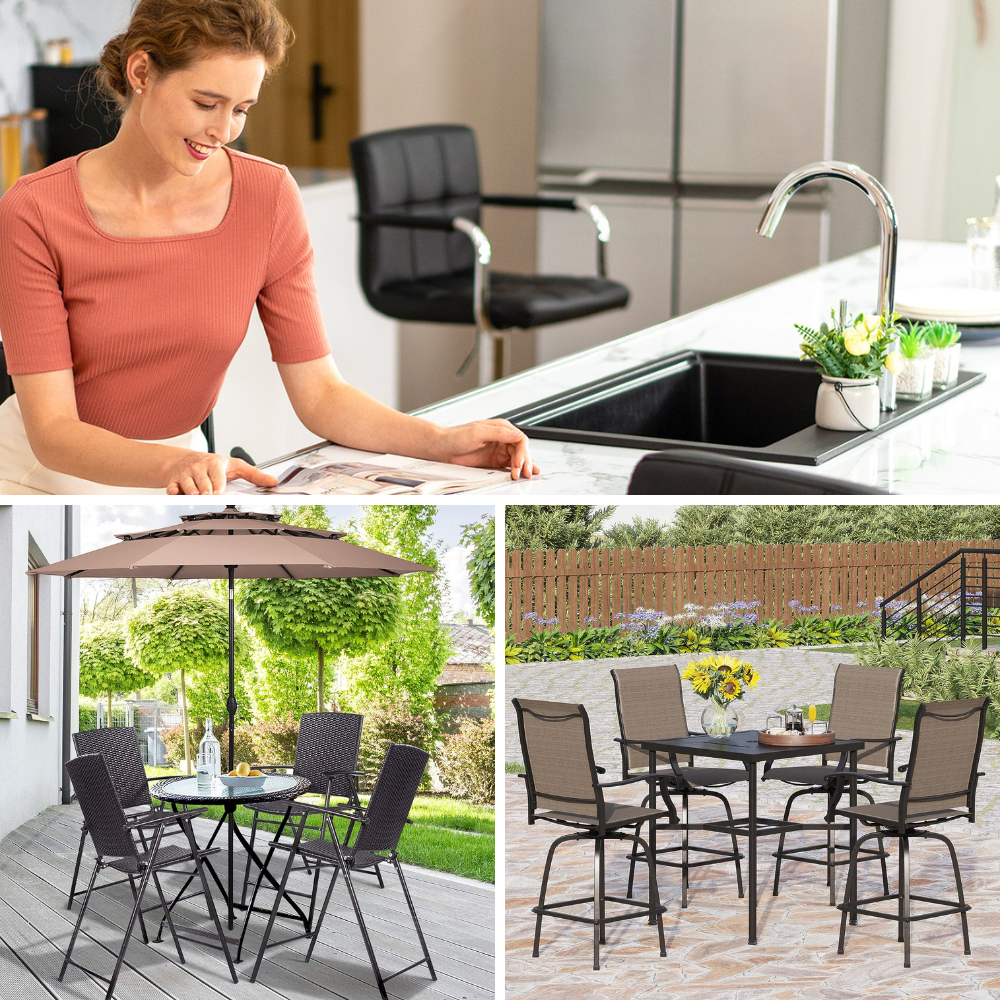 FAQs Outdoor Bar with Stools
What materials are outdoor bar stools usually made from?
Outdoor bar stools are typically made from materials that are weather-resistant and durable, such as aluminum, wrought iron, wicker, teak, and plastic. Aluminum is a lightweight and corrosion-resistant metal, which makes it a popular choice for outdoor bar stools. Wrought iron is also a popular choice for outdoor bar stools, as it is strong and durable. Wicker is also a popular choice for outdoor bar stools, as it is lightweight and weather-resistant. Teak is a wood that is naturally resistant to weather and water damage, making it a great choice for outdoor bar stools. Finally, plastic is a lightweight and durable material that is also resistant to weather and water damage, making it a great choice for outdoor bar stools.
How tall should an outdoor bar stool be?
An outdoor bar stool should typically be between 28 and 32 inches tall. This height is ideal for most people as it allows them to comfortably reach the counter or bar top without having to strain their back or neck. Additionally, the stool should have a footrest that is 7 to 10 inches from the table or floor to ensure proper support.
How many stools do I need for my outdoor bar?
The number of stools you need for your outdoor bar will depend on the size and shape of your bar, as well as the amount of seating space you need. Generally, you will want to have at least two stools per person for comfortable seating. If your bar is long and narrow, you may want to consider adding additional stools to ensure everyone has enough room. If your bar is round or square, you should have enough room for two stools per person.
Do outdoor bar stools need cushions?
It depends on the type of bar stool and the environment it is being used in. Outdoor bar stools exposed to direct sunlight and harsh weather conditions may benefit from cushions to provide additional comfort and protection from the elements. Pillows can also help to prevent slipping and provide a more comfortable seating surface. On the other hand, if the patio furniture outdoor bar stool is used in a sheltered area or indoors, cushions may not be necessary. Ultimately, it is up to the user to decide whether cushions are needed for their bar stool.
How do I maintain my outdoor bar and stools?
To maintain your outdoor bar and stools, you should regularly clean them with a mild soap and water solution. Make sure to rinse them off well afterward. You should also apply a protective sealant or coating to the bar and stools to protect them from the elements. Additionally, you should cover the outdoor bar furniture and stools when not in use to protect them from the sun and rain. Finally, check the outdoor bar sets and stools regularly for signs of wear and tear and repair or replace any parts that are damaged or worn out.
An outdoor bar with stools can transform your backyard into a socializing spot that you'll never want to leave. By picking the right style, shape, and size of the bar, the perfect stools, and adding some additional features, you can create an ideal space to entertain your guests and relax with family and friends. So, take these tips into consideration, create your backyard bar, and start enjoying a refreshing drink under the sun in your cozy outdoor space.